Plant Cell Biology
Jun 15
A final meow was heard as the mutant mitochondria finished off its first victim... -
See more funny on Cheezburger.com
Apr 03
(Source: mauriciom26, via understorey)
Apr 02
The sociable botanist

An advert seen in my local virtual newspaper, Green Times Perennial, 'Botanist, GSOH, out-going personality, WLTM other like-minded individuals for walks and talks on plant-related matters, maybe more…', intrigued me: just how do botanists/plant biologists/plant scientists find others of a similar phytological persuasion? It isn't that easy, especially as we seem to be thinly spread over the globe.
nybg:
and lo, said the angel, this day shall henceforth be known as MONDAY PUNDAY

It's been awhile since we rocked the vegetable pun … ~AR
Haha!
(via understorey)
Mar 25
Plant cells
Beautiful!
Mar 24
Naturally WhoLocked: I have successfully written my analogy for Plant Cells using Tumblr. -
In Biology we have to make an analogy for Plant Cells using everyday things like factories or cities. Since I don't go outside, I thought Tumblr was more of an "Everyday thing" for me. So far I have:
Cell Wall: Log in Page. (Helps keep everything together)
Cell Membrane: CAPTCHA while making your…
An interesting idea!
Chocolate AND red wine!
For now, both dark chocolate (derived in part from the seed of Theobroma cacao; http://en.wikipedia.org/wiki/Chocolate), AND red wine (firmly derived from grapes, the fruits of Vitis vinifera; http://en.wikipedia.org/wiki/Red_wine) have a medicinalist's 'thumbs-up'.
Shout-out for plantcellbiology.com - yay!!
Aug 28
Introducing "Plant Cell Alumni": Dr Paul Hunter! | Plantcellbiology.com
See on Scoop.it - Plant Cell Biology

It is with great pleasure that I can announce a new category on this blog: Plant Cell Alumni!
This series will feature interviews with people who at one point were active plant cell researchers, but are now doing something different. I hope to highlight the vast variety of possibilites open to plant scientists, no matter if they decided to change fields, to work in a science-related job or left science completely. If you would like to participate, please drop me an email and I will send you further instructions.
See on plantcellbiology.com
Aug 09
Scientists generate 281-gigapixel cell map using electron microscope
See on Scoop.it - Plant Cell Biology

Electron microscopes can produce incredibly detailed and even 3D views of sub-cellular structures, but often at the cost of losing the bigger pictur…
See on engadget.com
Get the protein rolling: How to build a plant cell marble maze | Plantcellbiology.com
See on Scoop.it - Plant Cell Biology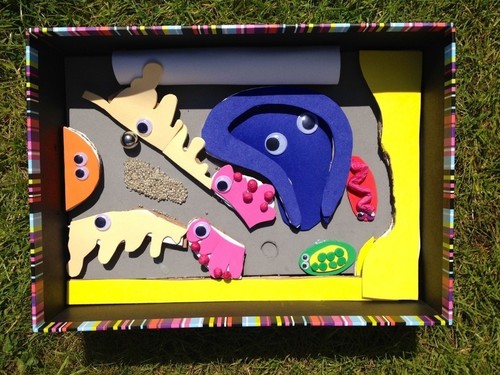 I am incredibly lucky in that our research group is not only tolerant of my crazy science outreach ideas, but whole-heartedly embraces and develops them. When we started thinking about activities for the "International Fascination of Plants Day", our PhD student Alessandra told me this funny story. She had gone to bed and just before falling asleep suddenly got the idea for this project. She sat upright and thought "I have to tell Anne immediately!" But her computer was already switched off and her mobile phone was too far away. So she decided that it had to wait until the next day. Just for her enthusiasm I wanted to give her a hug! When I heard her idea, I immediately got excited as well.
We had been thinking about hands-on activities to engage children with plant cells. Alessandra came up with the idea of a plant cell marble maze. Or, to be correct, a plant endomembrane system marble maze.
See on plantcellbiology.com